Photos by Steve Rossiter, taken in Taiwan
Morphological Description
· The tail is very reduced in size. Antitragus large. Horseshoe on nose leaf extensive, separated by a fissure in the centre and has long leaflets on basal part. Huge ears.
· Fur brown at tips, grey at base.
· Forearm length 35-42 mm.
· Dental formula 1.1.2.3/2.1.2.3 as in Hipposideros.
Life history
· Breeding females found in January and March in Java (Smith & Xie 2008).
Distribution
The distribution in China is shown by the dots on the map (as given by Zhang et al. 1997). Extends across Indochina.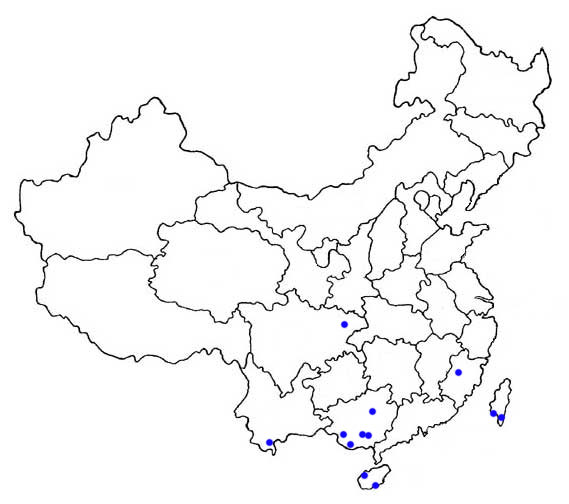 Habitat
· A forest species.
Roost sites and roosting behaviour
· Roosts in caves and manmade structures such as pill boxes. may form colonies in trees.
· Emergence and flight pattern
· Not known
Foraging behaviour
· Not known.
Echolocation calls
· Some calls recorded lack the constant frequency portion typical of hipposiderids, but this could be because of inadequate sampling of highest frequencies.
Status and protection
· There is no estimation of population size for China.
· Status is RL-VU A1cd in China (Smith & Xie 2008).
· Caves, and forests should be protected as their habitats.