Morphological Description
· Brown dorsally, pale or whitish ventrally. Blackish face.
· Forearm length 32.9-35.5mm Yunnan and Sichuan. One male weighed 6.2 g, Yunnan. Forearm 33-36 mm according to Smith & Xie (2008).
· Top inner incisors bicuspid.
· Previously known as Pipistrellus pulveratus.
Life history
· Little known
Distribution
The Chinese distribution is shown by dots on the map (as given by Zhang et al. (1997).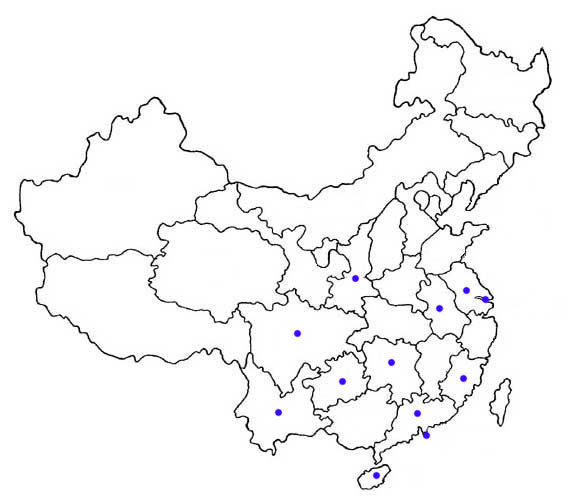 Habitat
· Has been found in forested areas (Smith & Xie 2008)..
Roost sites and roosting behaviour
· Has been found roosting in houses (Smith & Xie 2008).
· Emergence and flight pattern
· Little known.
Foraging behaviour
· Not known.
Echolocation calls
· Broadband sweeps ending in a narrowband tail around 32-35 kHz (unpublished).
Status and protection
· There is no estimation of population size for China.
·Listed as RL-NT in China though it nearly met criteria for VU A1bcd. IUCN listed as RL-LR/nt (1994) (Smith & Xie 2008).