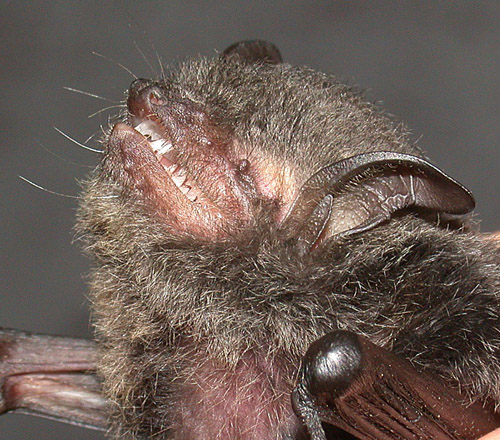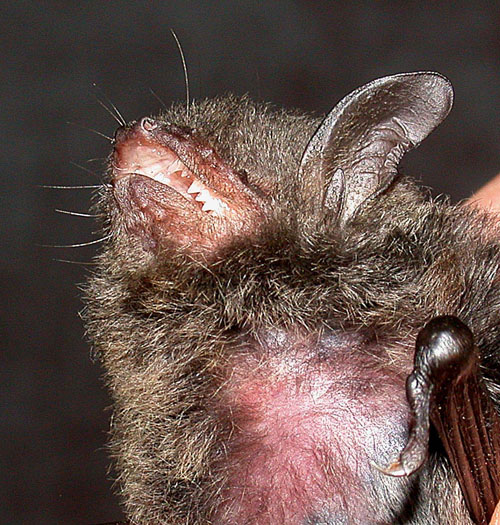 Morphological Description
· Analysis of cytochrome b sequences by Manuel Ruedi and Benoit Stadelmann placed the bat alongside another identified as horsfieldii in SE Asia.
· Fur brown, lighter ventrally.
· One bat captured in Yunfu Mount, Bolo County, Guangdong 4 September 2003. Male, forearm 35.0 mm, 6.3 g. ear 9.9 mm, penis club shaped. Tibia 17mm, foot 9 mm. Lower canine much larger than in siligorensis . Note tiny 2nd upper premolar.
· Smith & Xie (2008) give forearm length = 36-42 mm, and state wings attached to outer metatarsal.
· The ears are long, the tips of are rounded. Anterior borders are convex, posterior borders are concave above and convex below with a notch in midpart (visible on photos above).
Life history
· Little known
Distribution
The species extends across SE Asia, including Vietnam. In China it is known from Guangdong, Hainan, and Hong Kong (Smith & Xie 2008). The Chinese distribution is shown by dots on the map (as given by Wang, 2003). In Wang's book, it referred to as distributed in Guangdong , Hong Kong and Hainan Island . the dots are mapped in the middle of provinces in order to imply distribution at the provincial level.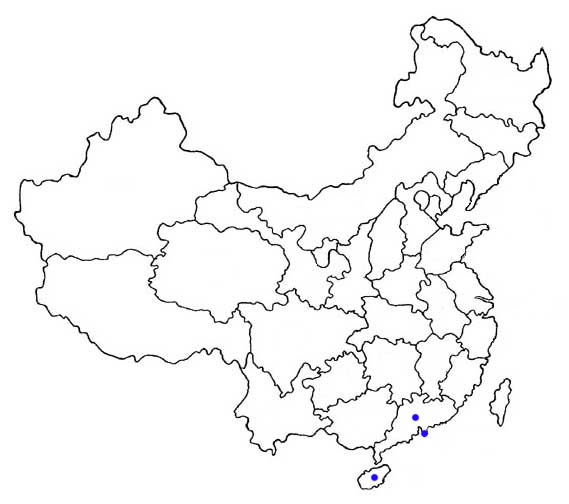 Habitat
· Little known. We caught the bat over a stream below a mountainous area.
Roost sites and roosting behaviour
· Roosts in caves, abandoned tunnels and man-made structures. Colonies are usually small but may contain over 100 bats (Smith & Xie 2008).
· Emergence and flight pattern
· Little known.
Foraging behaviour
· Not known.
Echolocation calls
· Unknown.
Status and protection
· There is no estimation of population size for China.
· Horsfield's myotis is listed as RL-VU A1acd in China (Smith & Xie 2008).
· Caves, streams and old buildings should be protected as their habitats.