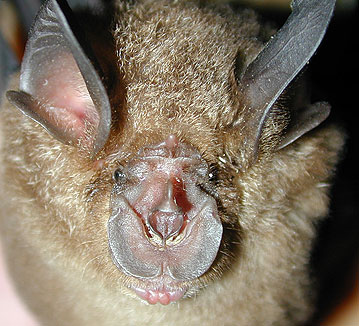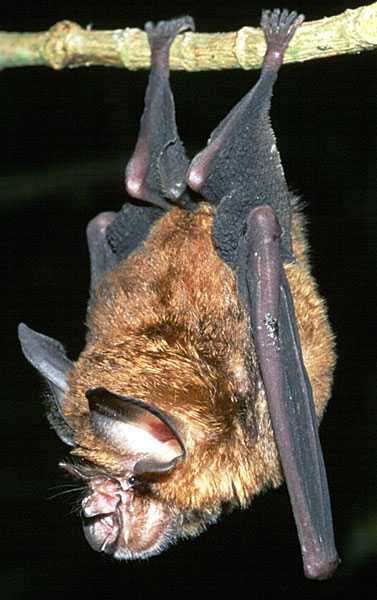 Right hand photo - Tigga Kingston
Morphological Description
·Medium-sized horseshoe bat. Horseshoe covers most of muzzle, and a clear supplementary noseleaf is present. Lower lip has 3 grooves (Csorba et al. 2003).
·Dorsal pelage light yellow-brown at base, reddish cinnamon-brown above. Underparts lighter (Csorba et al. 2003).
· Forearm length 41-47.5 mm (Csorba et al. 2003).Bats in China were 42.9 ± 0.92 mm, mass 10.3 ± 1.40 g (n = 6).
Life history
· Little known
Distribution
Thailand, Lao PDR, Vietnam, Peninsula Malaysia, Sumatra, Java (Csorba et al. 2003). Three males and 3 females captured in Yunnan in 2002 were the first records for China.
Habitat
· Little known. In Malaysia, their main habitat is rainforests (Kingston et al. 2006).
Roost sites and roosting behaviour
· Generally roosts in caves.
· This species often shares cave roosts with other bat species.
Emergence and flight pattern
· Most rhinolophid bats have wing shapes that make them adept at foraging in cluttered environments.
Foraging behaviour
· Not known.
Echolocation calls
· The echolocation calls had a frequency of most energy about 87.2 kHz in Yunnan, while Robinson (1996) reported 85-90 kHz (FA 46 mm), and Kingston (2000) documented 86.1 kHz (FA 48.8 mm), both in Malaysia.
Status and protection
· There is no estimation of population size for China.
· Because the species has only been recorded at one site, it is probably very localised.
· Caves and rainforests should be protected as their habitats.
· IUCN global status Least Concern, populations stable.