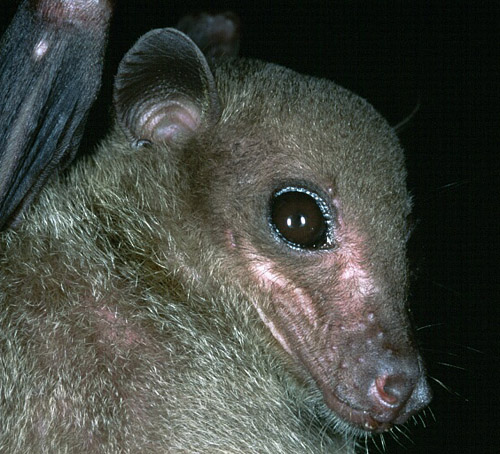 Photo by Steve Rossiter.
Morphological Description
· Darker than R. leschenaultii in colour - tends to be uniform grey-brown.
· Forearm length 79-87 mm (Smith & Xie 2008). Slightly smaller than R. leschenaultii, but considerable overlap in size.
· The last lower molar is more sub circular in shape (rather than elliptical).
Life history
· Gestation about 15 weeks, lactation about 3 months (Smith & Xie 2008).
Distribution
Recorded in Yunnan. Also found in Thailand, Myanmar, Laos and the Malay Peninsula. Also in Indonesia, New Guinea, Philippines.
Habitat
· Recorded at elevations up to 2200m. may travel long distances to feed.
Roost sites and roosting behaviour
· Roosts in caves during the day, also in rock crevices, old tombs.
Emergence and flight pattern
· Little known.
Foraging behaviour
· Little known.
Echolocation calls
This species probably emits clicks by moving its tongue against the roof of its mouth.
Status and protection
· There is no estimation of population size China.

· Listed as RL-NA in China (Smith & Xie 2008).

· Probably important for seed dispersal. May be persecuted by fruit farmers.

· Possible threats may be habitat loss through development, dams, and deforestation, and perhaps hunted for medicinal purposes (IUCN, 2006).