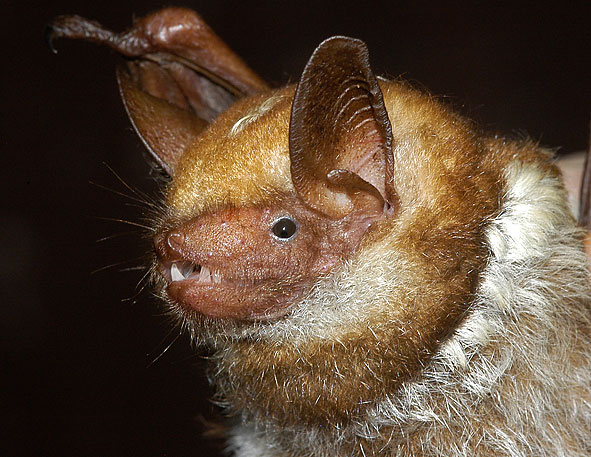 Morphological Description
· Unmistakable: orange-brown dorsal pelage has white, meandering streak. White spots elsewhere, e.g. head, shoulders. ventral surface frosty white. Face pink.
· Female caught in Sichuan had forearm length 59.1 mm. Forearm 50-62 mm according to Smith & Xie (2008).
· Dental formula 1.1.1.3/3.1.2.3 = 30 (Smith & Xie 2008)
Life history
· Little known
Distribution
Sichuan, Yunnan, Guizhou, Anhui, Fuijan, Hunan, Guangxi, Guangdong and Hainan. Extends east to India (Smith & Xie 2008). The Chinese distribution is shown by dots on the map (as given by Zhang et al. (1997).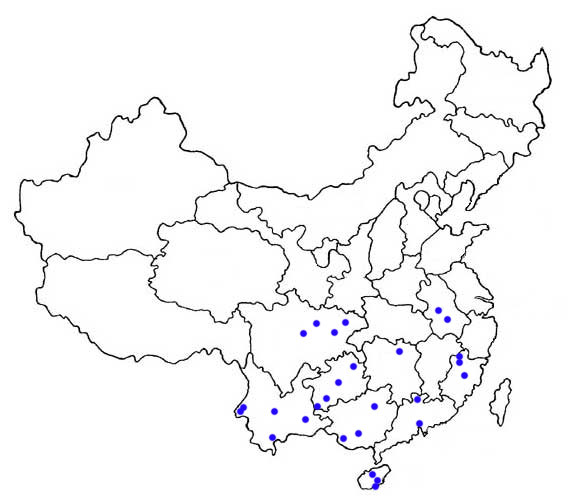 Habitat
· Little known. Distinctive patterns may break up nbackground when roosting in foliage.
Roost sites and roosting behaviour
· Roosts in foliage, especially in lowland forest (Smith & Xie 2008).
· Emergence and flight pattern
· Little known.
Foraging behaviour
· Not known.
Echolocation calls
· Not known.
Status and protection
· There is no estimation of population size for China.
·Listed as RL-LC in China. IUCN RL-TR/nt (1994).
· Lowland forest should be protected as their habitats.