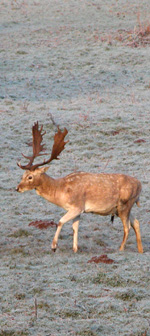 &copy Mammal Research Unit

Accessibility
We have made reasonable adjustments in order to make all web-based information, services and learning resources accessible to all users whatever their access requirements. All web content conforms to W3C/WAI's Web Content Accessibility Guidelines 1.0, Conformance Level 'Double-A'.
We will review the policy in the future to consider updating it to an advanced version of the W3C's Web Content Accessibility Guidelines once available.
All Mammal Research Unit pages are valid xhtml 1.0.
Copyright
All text &copy Mammal Research Unit 2008.
The copyright of all images belongs to members of the group. Please do not use images without contacting us for permission.