Research
---
The grazing ecology of the African buffalo (Syncerus caffer) in the Okavango Delta, Botswana
A PhD study by Emily Bennitt, partially funded by the Dulverton Trust, the University of Botswana, the North of England Zoological Society, The Wilderness Safari Wildlife Trust, Idea Wild and by individual contributors. Supervised by Stephen Harris, Casper Bonyongo (University of Botswana) and Chris Brooks.
---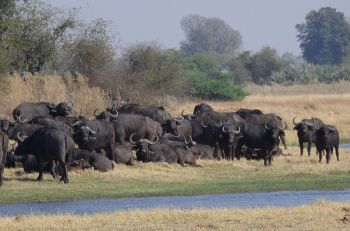 African buffalos;

Introduction
The Okavango Delta, located in Northern Botswana, is a unique and fragile wetland ecosystem, home to a large range of species. One of the largest and most numerous of these is the African buffalo (Syncerus caffer), whose population is estimated at 60,000 individuals.
Given the body mass and gregarious nature of the African buffalo, it is thought to play a vital role in the ecosystem of the Okavango Delta. However, very little research has been carried out on its behaviour and ecological requirements. My project will collect data on various aspects of the buffalo's ecology using a combination of GPS data from radio-collars and direct observation.
Aims
To monitor the demographics of a population of buffalo, including age and sex ratios, recruitment rates and body condition scores, in order to identify any trends.
To map the monthly and seasonal home ranges of the study population, including any habitat preferences, and identify causes for these preferences
To determine the foraging patterns of the population in terms of the plant species consumed, any preferences therein, and the factors influencing their choice of forage species.
To identify triggers for large scale seasonal movements between habitat types.
The ultimate objective of this project is to provide sufficient information for the development of a conservation and management strategy for the African buffalo that takes into account its impact on habitats, other wildlife species and on local communities.
The Okavango Delta is in urgent need of protection, but more research must be carried out on its ecology before an effective conservation and management strategy can be developed. By investigating the impact of the African buffalo on its environment, its role within the ecosystem can be defined. Determining the requirements of the current buffalo population will enable it to be used as an umbrella species to preserve much of the ecosystem, including endangered and vulnerable species found in the region. A thorough understanding of the ecology of the African buffalo will help to predict the impact of future changes to the ecosystem, not only on the buffalo, but on the entire Okavango Delta.
For more information on this project, please visit my research website.
Volunteer field assistant positions are sometimes available for this project, for a minimum of three months. Please contact me for more details.
Contact details
Emily Bennitt
Mammal Research Unit
School of Biological Sciences
University of Bristol
Woodland Road
Bristol BS8 1UG, U.K.

Telephone: 0117 9287593
Email: Emily Bennitt