Research
---
The infrasonic and seismic communications in the Africa savanna elephant (Loxodonta africana)
A PhD study by Graham Bowles. Supervised by Stephen Harris, Marc Holderied and Kate Evans. Sponsored by Elephant Back Safaris, The Elephants For Africa Research Project, University of Bristol, Dr Bill Pfisterer, Brooke and Ginny Jordan, Brian and Lavinia Snyder.
---
Background
Elephants produce very deep, very powerful calls. There is a lot of evidence to support that they use these calls as a form of long distance communication. This project will achieve a deeper understanding of these calls and will establish whether we are able to use them as an efficient method of monitoring wild elephant populations in remote and inaccessible areas.
I will be studying the infrasonic and seismic calls within a breeding herd of elephants that are working for the safari industry in the Okavango Delta, Botswana. I will identify and map the call types associated with the herd in order to establish whether they are adapting their calling behaviour to suit variations in habitat and substrate. Using this ground work, I will then be able to extend the project to sample wild elephant populations to establish whether these same patterns of calling occur in the wild. Based on this information I will then be able to show whether seismic surveys can be used as an efficient and accurate form of monitoring elephant populations.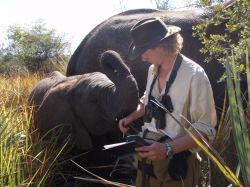 Relevance to conservation
With more accurate information on the exact numbers and locations of wild elephants we will be able to advise governing bodies on the correct management of this icon of conservation and the habitat it occupies. This will include finding definitive answers to such issues as elephant carrying capacities, the need for culling, problem animal resolution and human-animal conflict issues.
How can you help?
There are many ways to support the project, both big and small, it all helps! For details on how to purchase merchandise, make a donation, sponsor a piece of equipment or get involved in corporate sponsorship then visit The Infrasound Project website at www.elephantproject.com.
Contact details
Graham Bowles
Mammal Research Unit
School of Biological Sciences
University of Bristol
Woodland Road
Bristol BS8 1UG, U.K.

Telephone: 0117 9287593
Email: Graham Bowles