Research
---
The costs of group living in foxes
A PhD study by Ellie Whittaker supervised by Stephen Harris.
---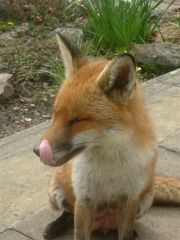 Photo by Jane Bowry
Introduction
Red foxes (Vulpes vulpes) are the world's most widely distributed canid species. Surprisingly, little is known about the complexity of their social organisation - there is wide variation in territory size, group structure and group size. Red foxes live in groups as a primitive social species, but display solitary foraging behaviour. As such, their organisation could be seen to exist as an evolutionary intermediary between obligately social species, such as the grey wolf Canis lupus, and solitary carnivores, such as most mustelids.
In most social species dominance is associated with certain costs and benefits, for example, reproductive monopoly and priority access to feeding sites, but increased mortality due to the defence of resources. It has been shown, however, that there do not appear to be clear cut differences between individuals of different social status in the Bristol fox population - I intend to assess the benefits of dominance and the mechanisms that underlie social organisation leading to a better understanding of group formation.
For more information on foxes visit our new website:

The study will include evaluating the fitness benefits to dominant individuals by investigating the survival of cubs, sex bias in litters and the distribution of male parental care received by females of different status. Hormonal profiles will be determined to distinguish differences in stress and sex hormone levels; I will also investigate whether the offspring of dominant individuals receive benefits such as better nutritional status, growth rates and the inheritance of dominant status.
The Bristol fox population has been monitored for over 30 years so a long-term dataset is available for analyses. Using a theoretical framework, work will be carried out in order to model the thresholds that may cause a shift from solitary to group living.
Contact details
Ellie Whittaker
School of Biological Sciences
University of Bristol
Woodland Road
Bristol BS8 1UG, U.K.

Tel: 0117 9287593
Email: Ellie Whittaker