Information about foxes
---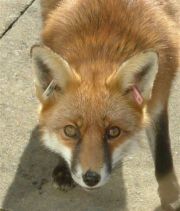 A fox with eartags

Photo by Jane Bowry
Foxes in Bristol
If you live in Bristol and in particular from northwest Bristol (Coombe Dingle, Henleaze, Sea Mills, Sneyd Park, Stoke Bishop, Westbury-on-Trym and Westbury Park) please report sightings of collared and uncollared foxes, dead foxes (with ear tags or untagged) and cubs.
Report sightings of foxes
Report dead foxes
Fox research in Bristol
Members of the Mammal Research Unit are undertaking the following studies on foxes in Bristol:
For more information on foxes visit our new website:
There are also some recently completed studies:
Mangy foxes and other queries
We receive many phone calls of people concerned about foxes affected by mange. A scruffy looking fox it is not necessarily an ill fox. When moulting in spring, foxes look quite rough but this does not mean they are mangy. If you live in northwest Bristol and you have queries about a mangy fox, please call us on 0117 9287593. If you live anywhere else, there are a few very good website that can provide information on mange and possible treatment for foxes.
The Fox Project (The Southborough Centre, Draper Street, Southborough, Tunbridge Wells, Kent, TN4 0PG Tel. 01892 545468) is an organization operating mainly in southeast England that deals amongst other things, with discouraging foxes from private properties. They run a Deterrents help line: 01892 514863. Go to: www.foxproject.org.uk, or e-mail: fox@foxproject.org.uk.
---
Contact details
Mammal Research Unit
School of Biological Sciences
University of Bristol
Woodland Road
Bristol BS8 1UG, U.K.

Telephone: 0117 9287593
Email