Research
---
Communication in red foxes (Vulpes vulpes): investigations on the histology of supracaudal and anal glands of the red fox
A research project by Johanna Hofmann. Funded by the EU - Leonardo da Vinci programme.
Supervised by Stephen Harris. In co-operation with Janosch Arnold.
---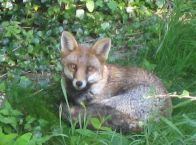 Photo by Johanna Hofmann
Background
This project is part of the PhD study by Janosch Arnold Communication in red foxes (Vulpes vulpes): the code of scent marks.
The main aim of this sub-project is the histological investigation of the supracaudal and anal glands of the red fox. More specifically, the project aims to identify seasonal and gender specific traits.
Furthermore I am involved in a radiotracking study on the reaction of foxes to artificial scent marks.
For more information on foxes visit our new website:

Contact details
Johanna Hofmann
Mammal Research Unit
School of Biological Sciences
University of Bristol
Woodland Road
Bristol BS8 1UG, U.K.

Telephone: 0117 9287593
Email: Johanna Hofmann