Research
---
Large herbivore population structure and patterns of assemblage in the Okavango Delta, Botswana
A PhD study by Harriet Bartlam, partially funded by a Leverhulme Trust Study Abroad Studentship. Supervised by Stephen Harris and Casper Bonyongo (University of Botswana).
---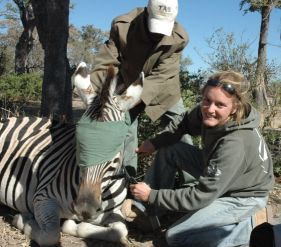 Introduction
The Okavango Delta is a large land-locked alluvial fan located in the Kalahari Basin, in north-east Botswana. It is made up of a rich mosaic of habitats and covers approximately 22,000 km2, making it the largest inland delta in Africa. The ecosystem is driven by an annual flood that brings water and initiates forage growth during the dry season, allowing the area to support a wide variety of animals at densities only surpassed within southern Africa by Kruger National Park. Wildlife research on the Okavango Delta remains fragmented and in many fields inadequate. Quantitative data on species abundance, population dynamics, assembly patterns, and spatio-temporal distribution are scarce and largely unpublished. Aerial surveys of the Okavango Delta conducted by Botswana's Department of Wildlife and National Parks suggest that populations are unstable, with some species populations apparently increasing whilst others decrease, but the underlying factors causing this perceived population instability are not known.
The aim of this project is to determine the present population demographics and assembly patterns of large-bodied herbivores within the southern Okavango Delta and investigate what factors regulate these herbivore populations.
Objectives
Acquire in-depth understanding of the population demographics and assembly patterns of key large-bodied herbivore found within the southern Delta.
Investigate the relationship between habitat availability, resource characteristics and herbivore population density.
Determine how herbivore density variability affects resource use, and in particular resource partitioning among co-existing species.
Investigate whether seasonal home range size, habitat utlilisation and foraging strategies differ according to habitat availability and resource characteristics.
This project will provide important information on the population structure and optimal resource characteristics for each key large-bodied herbivore species. This information will increase our ability to predict how the ecosystem's herbivores will be affected by potentially destructive disturbance and can therefore be used to model future populations and develop valuable management and conservation protocols.
Volunteer positions for individuals wishing to gain field work experience before starting a postgraduate degree are occasionally available for this project.
Contact details
Hattie Bartlam
Mammal Research Unit
School of Biological Sciences
University of Bristol
Woodland Road
Bristol BS8 1UG, U.K.

Telephone: 0117 9287593
Email: Hattie Bartlam