Research
---
Assessing the impact of land subdivision on the future viability of wildlife in the Greater Amboseli Ecosystem, Kenya.
A PhD study by Rosemary Groom, supervised by Stephen Harris and in association with the African Conservation Centre, Kenya, under Dr David Western.
---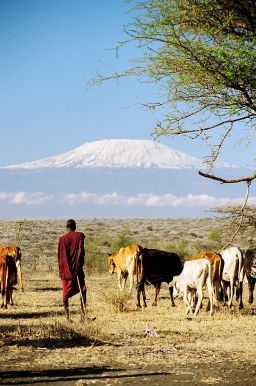 Maasai face new challenges
because of land subdivision
Photo by Rosemary Groom
Background
The Greater Amboseli Ecosystem is located in southern Kenya, between Amboseli and Tsavo National Parks and at the foothills of Mount Kilimanjaro. The ecosystem consists of six Maasai group ranches with a combined area of 5583 km2, and Amboseli National Park (390 km2). The area supports approximately 50,000 Maasai pastoralists, 280,000 head of livestock and an estimated 70,000 head of wildlife. It is one of the last remaining areas in East Africa where wildlife can roam freely over vast, uninterrupted areas. This makes it an important area to focus conservation efforts.
The biggest challenge facing the ecosystem is a process known as land subdivision. This entails the present large group ranches (up to 130,000 hectares in size) being divided up into individual plots of land of about 25 hectares each. The consequences of land subdivision include economic, social, cultural and ecological implications. They include sale of plots to non-Maasai, increased cultivation, an increase in the number of fenced plots, a decrease of livestock herd mobility leading to overgrazing and potential land degradation, increasing conflict between humans and wildlife and a decreasing tolerance of wildlife. Many of these radical implications come about due to the loss of access to key resources by people, livestock and wildlife and the increasing constraints on movement between remaining resources. Land subdivision has, in most cases, been found to have negative consequences for local wildlife populations.
Introduction to the project
This thesis is about the ecological and socio-economic effects of land subdivision within the wildlife-rich Maasai pastoral areas of East Africa. It will illustrate how the division of vast communal lands into small family-owned parcels has changed ecosystem processes and how it has affected both human and wildlife populations. It will address the current socio-economic situation in which Maasai pastoralists share their land with wildlife and suggest how this is likely to change in the future.
Project aims
To determine the importance of freedom of movement within a heterogeneous landscape for drought resilience of both livestock and wildlife, and to describe how this is compromised by land subdivision.
To describe how the increasingly sedentary lifestyles of semi-nomadic pastoralists changes the conventional use of space and resources and how it affects environmental processes.
To quantify the current costs incurred by Maasai pastoralists from living with wildlife and to determine the extent to which these are offset by current wildlife revenues.
To establish the extent to which wildlife revenues influence the Maasai's attitudes to wildlife and conservation, and thus to suggest the potential consequences to wildlife populations of the changing land use within Maasai homelands.
Status
This project is now complete.
Contact details
Rosemary Groom
Mammal Research Unit
School of Biological Sciences
University of Bristol
Woodland Road
Bristol BS8 1UG, U.K.

Telephone: 0117 9287593
Email: Rosemary Groom