Research
---
Dr. Steve Ross
---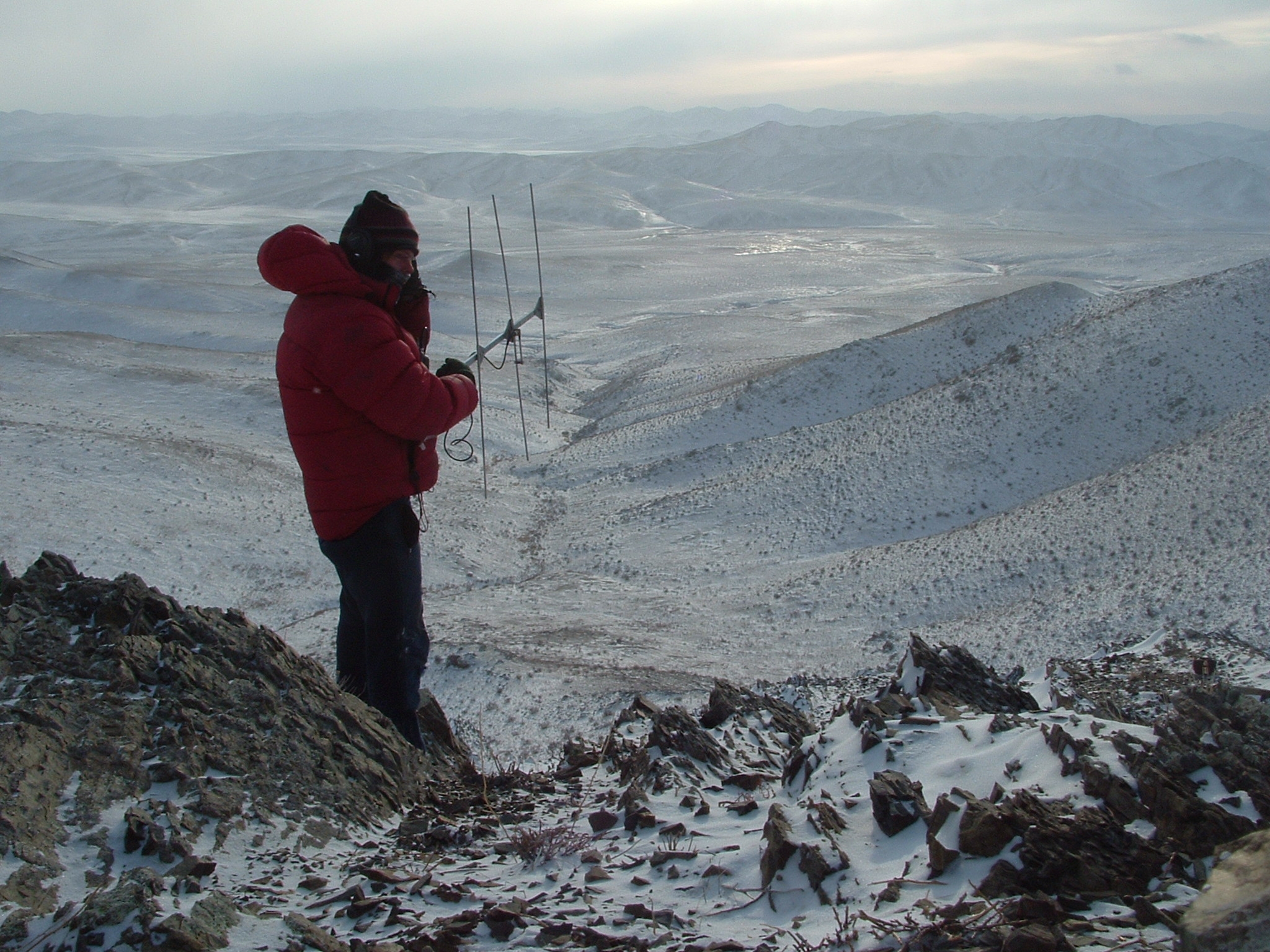 Radiotracking in winter in Mongolia Photo by Steve Ross
My main interests lie in conservation biology and environmental problem solving. I have a broad biological background from micoorganisms, plants to mammals. Most recently I have concentrated on using field based studies of carnivore behavioural ecology to understand species vulnerability. I also have interests in the application of modelling techniques as a tool for speices conservation.
I recently finished my Phd ďProviding an ecological basis for the conservation of Pallasís catĒ. Pallasís cat is a 3-5 kg felid sparsly distributed thoughout Central Asia and listed as Near Threatened by the IUCN. The 3-year field based study was based in Mongolia and was the first of its kind on the speices. I used radio-telemetry, predator and prey surveys, scat analyses, habitat mapping and other field techniques to understand the spatial ecology, area requirements, prey selection, habitat utilisation, critical requirements and other aspects of the cats ecology that are important aspects of the species conservation biology. Many of these papers are currently in review. My Pallas's cat research has been funded by Panthera/Wildlife Conservation Society Kaplan Award, the Leverhulme Trust, the Royal Zoological Society of Scotland, the Royal Geographical Society and the Small Cat Conservation Alliance.
I am currently using a range of modelling techniques to understand niche partitioning (food/space and habitat) of a Mongolian carnivore guild and conducting analyses of the energy expendature of Pallasís cats using doubly labelled water. I am also conducting research mapping urban wildlife habitat and corridors, and measuring the cumulative impacts of developement on urban biodiversity.
---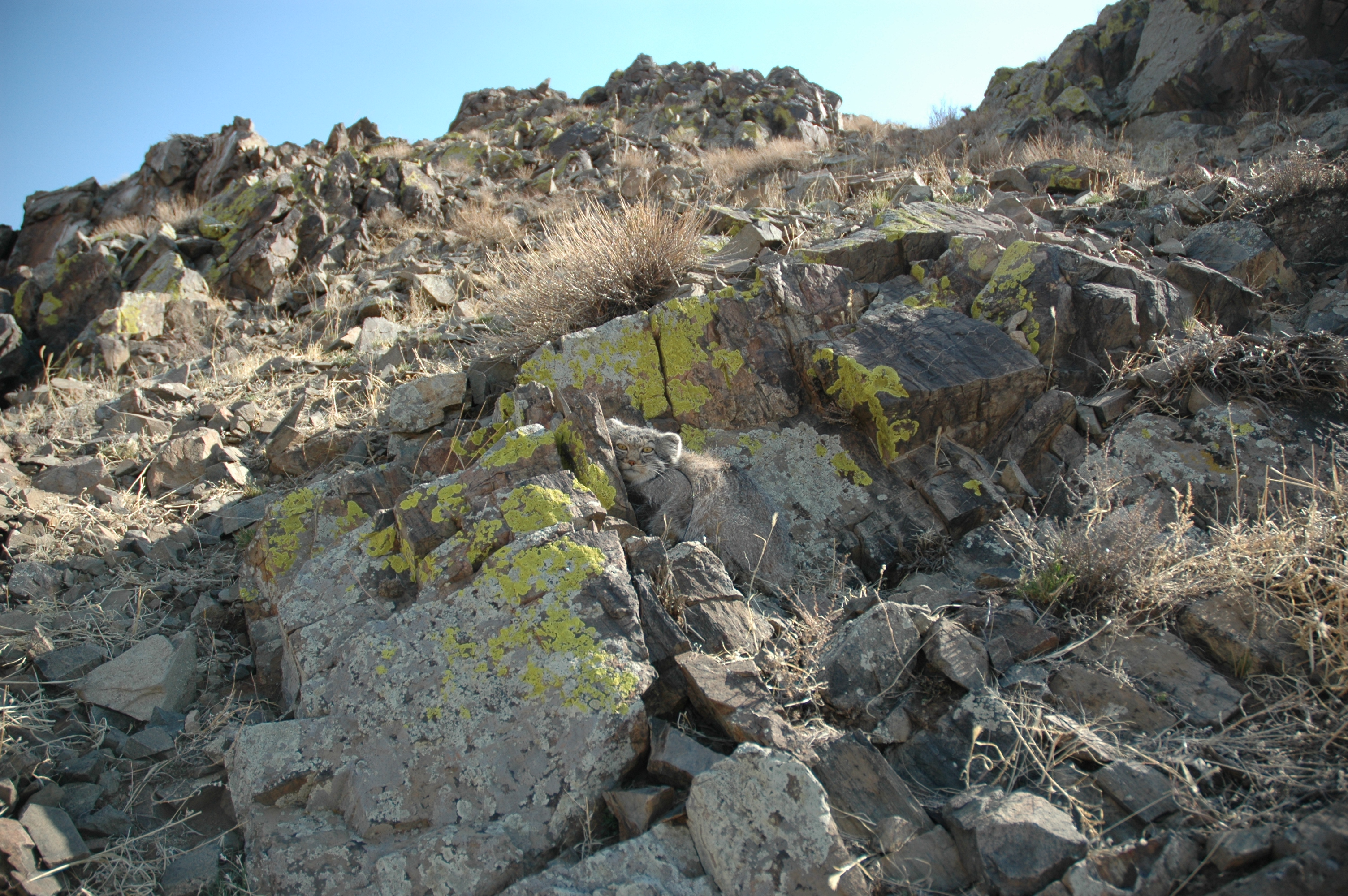 Spot the cat! Pallas's cat is a master of camoflage
Photo by Steve Ross
Publications
Ross, S., Kamnitzer, R., Munkhtsog, B., & Harris, S. (2010) Den-site selection is critical for Pallasís cats (Otocolobus manul) Canadian Journal of Zoology, 88, 905-913.
Ross, S., Harris, S. & Munkhtsog, B. (2010) Dietary composition, plasticity and prey selection of Pallasís cats. Journal of Mammalogy, 91, 811-817.
Brown, M.A., Munkhtsog, B. Troyer, J.L., Ross, S., Sellers, R. Fine, A., Swanson, W.F., Roelke, M. & OíBrien, S.J. (2010) Feline immunodeficiency virus (FIV) in wild Pallasís cats. Veterinary Immunology and Immunopathology, 134, 90Ė95.
Ross, S. (2009) Providing an ecological basis for the conservation of the Pallasís cat (Otocolobus manul). PhD thesis, University of Bristol, UK.
Ross, S., Murdoch, J.D., Mallon, D., Sanderson, J. & Barashkova, A. (2008). Otocolobus manul. In: IUCN 2008. 2008 IUCN Red List of Threatened Species. www.iucnredlist.org
Ross, S., Winterbach, C.W., Winterbach, H., Kamnitzer, R. & Applecrin, J.A.P. (2003) Lion monitoring in the southern Okavango Delta, In: Environmental Monitoring of Tropical and Subtropical Wetlands, Howard T. Odum Centre for Wetlands, University of Florida.
Publications in review
Ross, S., Munkhtsog, B., & Harris, S. (in review) Determinants of space use by Pallasís cats: do small carnivores balance risk with prey availability? Animal Behaviour
Ross, S., Munkhtsog, B. & Harris, S. (in review) Foraging habitat selection of Pallasís cats (Otocolobus manul) in relation to scale and limiting factors.
---
Contact details
Dr Steve Ross
School of Biological Sciences
University of Bristol
Woodland Road
Bristol BS8 1UG, U.K.

Telephone: 0117 928 7593
Email: steve.ross@bristol.ac.uk