Research
---
The abundance and distribution of Asiatic black bear and Malayan sun bear in Laos
A PhD study by Lorraine Scotson supervised by Prof. Stephen Harris
---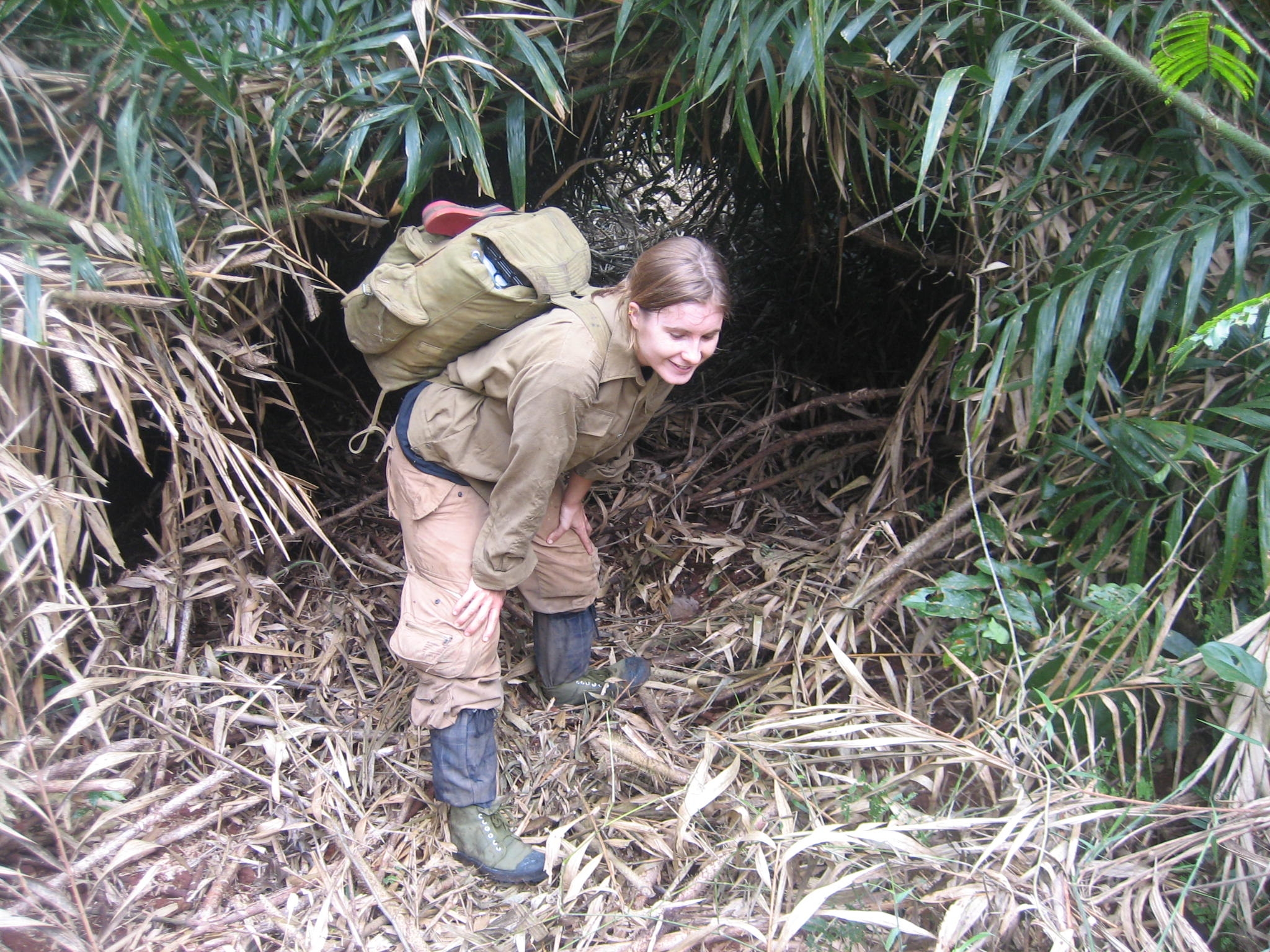 Introduction
My research is focused on the Asiatic black bear Ursus thibetanus and Malayan sun bear Helarctos malayanus which occur sympatrically within Lao PDR in distributions and relative abundance that are unknown. Laos is landlocked amidst China, Vietnam, Cambodia, Myanmar, and Thailand, and has a total land mass of 236,800km². Climate is tropical monsoonal with distinct cold/dry and hot/wet seasons. This project will use ecological and interview based surveys to identify key environmental and human caused variables that influence distribution and trends of the black bear and sun bear in Laos. Ultimately this knowledge will allow the creation of a statistical model capable of reliably predicting national bear distribution.
This research will be undertaken for completion of a Doctor of Philosophy Degree at Bristol University, UK. I am a Research Associate with Free the Bears Fund Inc. (FTB) and this project will contribute to a long-term initiative to expand in-situ conservation research of bear species in South East Asia. I have been working in the region for the past 3 years on bear population monitoring in Cambodia and Vietnam and a re-release study in Laos
Aims
The black and sun bear are both classed as 'Vulnerable' on the IUCN (World Conservation Union) Endangered Species Red List even though very little is known about the ecology, distribution and status of remaining populations throughout large parts of South East Asia. The spatial distribution, regional ecology and conservation status of the black bear and sun bear in Laos is unclear due to lack of scientific research into wild population distribution, trends, and ecology. Laos could represent a global strong hold for bear populations due to its high level of forest cover, > 40%, and a human population density of only 22 people/km2. Focused solely on bear species, my research will mark the first of its kind within this country.
In 1999 the IUCN Bear Specialist Group (BSG) released a 'Bear Conservation Action Plan' which placed an emphasis on the urgent need to develop bear status and distribution reports for all species occurring in unstudied areas, in particular developing counties in mainland South East Asia such as Laos, Myanmar and Vietnam. Identifying the true distribution of Asiatic black bears and sun bears and understanding the key factors that influence population trends can empower us to prevent further population decline. Without this basic knowledge planning and managing successful in-situ conservation is impossible.
Trade in bears and bear derivatives occurs internally and internationally to neighbouring countries such as China and Thailand, although the extent, value and key consumers of this trade have not yet been determined. Bile farms, where live bears are kept for regular bile extraction, are a relatively new concept, existing in Vietnam and China since the 1980s but now becoming prevalent in Laos. At least 7 operational farms are run mostly by Vietnamese families in Vientiane, Paxse, Luang Prabang, Boten, Thakek and Syabori. Bile farmers reportedly do not breed bears and all stock is said to originate directly from the wild. There is growing concern among the conservation community and government officials that bile farming will quickly expand nationwide due to unclear legalities concerning this practise and a lack of understanding of the implications hunting, trade, and commercial farming poses on wild populations.
Illegal hunting for trade in parts used in Traditional Chinese Medicine has been the down fall for other large mammals in Southeast Asia, such as tiger and rhino 'Endangered' and 'Critically Endangered' respectively) and in imminent danger of extinction. Conservation efforts to protect these species are re-active and a desperate struggle to preserve populations that are too sensitive to the massive commercial hunting pressures that continue to threaten them. Bear conservationists have an opportunity to be pro-active in their management of wild populations which have so far fared better than tiger and rhino but will doubtlessly face the same fate without adequate and immediate action
Contact details
Lorraine Scotson
Mammal Research Unit
School of Biological Sciences
University of Bristol
Woodland Road
Bristol BS8 1UG, U.K.

Telephone: 0117 928 7593
Email: Lorraine Scotson